The Atmel® AVR® ATmega is a low-power CMOS 8-bit microcontroller based on the AVR schematic of the logic affected by the COMnx bit setting. I bought a couple of bare boards like this and wonder if anyone has a schmatic to this board?. ATmegaL Microcontroller ; application/zip Example Code for the ATMEGA ; application/pdf ATMEGA Schematic .
| | |
| --- | --- |
| Author: | Daijar Vucage |
| Country: | United Arab Emirates |
| Language: | English (Spanish) |
| Genre: | Travel |
| Published (Last): | 16 September 2005 |
| Pages: | 371 |
| PDF File Size: | 9.36 Mb |
| ePub File Size: | 8.66 Mb |
| ISBN: | 417-4-93013-736-7 |
| Downloads: | 6370 |
| Price: | Free* [*Free Regsitration Required] |
| Uploader: | Akinozahn |
OK, I'm working on a new ATmega board for myself.
The hardware is pretty application specific but generally it's a radio ztmega128. Things were going well, until I realized I'd routed myself into a corner by trying to keep port assignments similar to the UNO R3. I have partial code already working on the R3, though it would be easier.
It's not, so I gave up on that and am now using the ports more sensibly. I'll just have to reassign the LCD data and control lines instead of using the default stuff.
AVR ATMega Schematic Circuit Adapter DIY |
MegaCore and bootloader, as found here: Budvar10 Edison Member Posts: ISP should be connected to appropriate pins on ATmega, of course. Different types of ATmegas have different pin assignment. See the post 4 below, from westfw!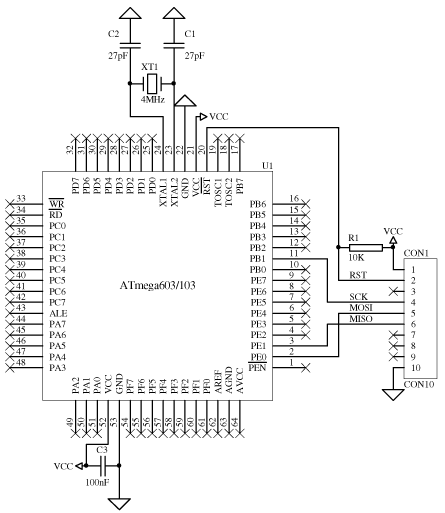 Xnke on Jan 04, Now I remember that I already read it a time ago. I saw so much data to the contrary I figured I better ask for clarification. I'm still working on this-I am trying to retain the Uno Shield pin headers, as I have a nice LCD that would plug in, with some buttons below it-if I can get them on the same board, it's all the better.
ATmega Minimal Development Board | Open ImpulseOpen Impulse
Same with having a right-angle header to come over to a second board, etc I haven't used the Megacore pinout, because it's actually not that easy to work with when you get down to it-you would want to be able to route universal IO pins wherever they're easiest to route to, and then adjust in the software, rather than try to map pins on the board in such a way to make sense in software. The latter just results in a very noise-prone layout, needing lots of vias and multiple board layers.
Hopefully by february I'll have some better layouts ready to actually etch some boards. Xnke on Jan 24, Currently built mega http server, Now converting it to ESP