Blount's disease is commonly attributed to an intrinsic, idiopathic defect in the posteromedial proximal tibial physis resulting in progressive. Revue de Chirurgie Orthopédique et Traumatologique – Vol. 88 – N° 2 – p. – IRM épiphysaire du tibia et maladie de Blount – EM|consulte. suggested by Blount: Tibia Vara or Osteochondrosis Deformans Tibiae. Subsequent .. Une sCrie de 17 malades atteints de la maladie de Blount ont kt6 .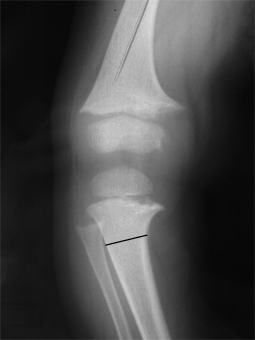 | | |
| --- | --- |
| Author: | Zululabar Yozshulmaran |
| Country: | Jordan |
| Language: | English (Spanish) |
| Genre: | Video |
| Published (Last): | 13 January 2011 |
| Pages: | 230 |
| PDF File Size: | 14.20 Mb |
| ePub File Size: | 2.76 Mb |
| ISBN: | 802-5-62073-249-8 |
| Downloads: | 45688 |
| Price: | Free* [*Free Regsitration Required] |
| Uploader: | Kem |
Blount's disease is commonly attributed to an intrinsic, idiopathic defect in the posteromedial proximal tibial physis resulting in progressive bowing of the leg, intoeing, and lateral knee thrust. Treatment has historically included bracing, physeal stapling, or corrective osteotomy, and was determined primarily by age at presentation. As we feel the pathology is not necessarily age dependent, we have elected to use the technique of guided growth using a mmaladie tension band plate to correct limb alignment blounh a first-line treatment in all patients presenting to our clinic as long as they had growth remaining and no evidence of a physeal bar.
We identified 17 patients with tibia vara 27 limbs who were managed by means of guided growth of the proximal tibia, from age 1. Clinical and radiographic parameters were followed pre- and postoperatively. The response to guided growth was documented as were any related complications. Time to correction averaged There were no peri-operative complications.
We observed hardware failure in 3 patients; 2 with screw breakage and 1 patient with hardware migration, none requiring subsequent osteotomy or further treatment. Two patients had rebound varus: Patients with pathologic tibia vara present at various ages and have historically undergone various treatments ranging from bracing to tibial osteotomy based on age at presentation. We have found that guided growth utilizing tethering plates can be used effectively as first-line treatment in all patients with growth remaining.
This minimally invasive method is predictable and well tolerated. Recurrent deformity, though unlikely, is easily remedied by repeating the process and does not preclude osteotomy if eventually needed. Concomitant resolution of ligamentous laxity and inward torsion can be anticipated as the mechanical axis is restored to neutral.
The only contraindications for guided growth include an unresectable physeal bar or skeletal maturity. Blount's disease, also known as pathologic tibia vara, has proven to be a difficult condition to manage.
For the very young patient, some advocate conservative management with the utilization of bracing; yet the effectiveness of this approach remains controversial. For the older patient that develops pathologic tibia vara, bracing is not indicated. Surgical options generally include corrective high tibial osteotomy or hemiepiphysiodesis.
For less severe deformities, hemiepiphysiodesis offers the advantage of a less invasive procedure with fewer major complications. With the exception of those patients with a defined medial tibial physeal bar, we have taken the approach of initially managing all infantile, juvenile, and adolescent patients, presenting with pathologic tibia vara, with hemiepiphysiodesis using tension band plating without specific consideration for age or BMI body mass index as long as there is growth remaining.
Our rationale is that there is no obvious difference in the underlying pathology, but only differences in patient age and body habitus at presentation. In reviewing these patients, our hypothesis was that guided growth with tethering plates is a safe and effective first line of treatment for skeletally immature patients regardless of age or BMI at presentation with the understanding that there is no definite physeal bar.
Based on that hypothesis, the objective of this study was to review patients with pathologic tibia vara treated with hemiepiphysiodesis using tethering plates to establish efficacy in correcting deformity as well as to document complications associated with treatment. This was an IRB approved, single institution, retrospective cohort study.
Seventeen patients 27 limbs were identified with a diagnosis of pathologic tibia vara and who were treated between and with temporary hemiepiphysiodesis using tension-band plating. All skeletally immature patients greater than 1 year of age who presented with pathologic tibia vara were included in the review.
Failed prior treatment including osteotomy was not considered as exclusion criteria.
Patients with metabolic and neurologic disorders, skeletal dysplasia, and previous trauma, were not considered for inclusion. All patients were followed in an outpatient setting by a single surgeon. Full-length, weight-bearing, anterior—posterior radiographs of the lower extremities were evaluated for angular deformity, as well as proximal tibial and physeal morphology.
The mechanical axis was evaluated by drawing a line from the center of the femoral head to the talus, bisecting the knee. Other information collected from review of patient charts included sex, age at surgical intervention, and perioperative complications.
Guided growth using bkount plates has previously been described. Immediate mobilization and full-length weight-bearing was encouraged after surgery.
No casting or bracing was utilized postoperatively. Patients were subsequently evaluated in a clinical setting, typically at 3 to 4 month intervals, for tibia vara and tibial torsion. Full-length, weight-bearing, radiographs were acquired to allow for evaluation of mechanical axis deviation in relation to preoperative presentation. It should be noted that we generally overcorrect dee 3 to 5 degrees of genu valgus to allow for some physeal rebound following plate removal.
A—C Intraoperative placement of a tension band mqladie using fluoroscopy and an arthrogram. A Initial films revealing genu varum. B AP standing full length showing resolution of the bloumt varum after guided growth using an 8 plate. C AP standing full length after removal of hardware. Seventeen patients with 27 affected limbs underwent guided growth with tension-band plates. There were 14 boys and 3 girls, with ages ranging from 22 months to Average follow-up from initial surgery date was 31 months range 8 to 75 months.
In patients with full correction, the average length of treatment from initiation to completion was Five adolescent patients 6 limbs had incomplete correction to a neutral maladle axis.
Two of these patients are asymptomatic with a mild residual deformity and have required no further treatment. One of these patients received suggestion for an osteotomy to address a persistent moderate unilateral deformity but opted against further treatment. B,ount patients have undergone corrective osteotomies with good results. Two of the blouunt selected for our study had previously undergone corrective osteotomies, using the Rab technique. He was later treated at our institution with lateral tibial tension-band plating.
This patient was lost to follow-up for 2 years after his tethering plates were placed.
There was a problem providing the content you requested
The second patient initially underwent an osteotomy of the left tibia for a severe deformity and right proximal tibial medial hemiepiphysiodesis for a mild right deformity.
The osteotomy did not provide complete correction of the deformity. His residual deformity was treated with a hemiepiphysiodesis which later resulted in normalization of his mechanical alignment. A Reoccurrence of genu varum after osteotomy done at another institution.
B Treated at our institution with lateral tibial tension-band plating. He was lost to glount after his tethering plates were placed. An exchange of his hardware to the medial side of his tibia resolved the genu valgum D at latest follow-up.
Each of these patients presented before the age of 6 years. Following tension-band plate application and correction of the varus angulation, the inward tibial torsion was noted to have spontaneously resolved. Although we do not have a good explanation of this phenomenon, it refutes the malzdie held by many that osteotomy is required for correction of the inward rotational component that accompanies tibia vara in the younger patient.
One of the patients underwent bilateral inward rotational supramalleolar osteotomies at the time of tension-band plate application for tibia vara and went on to complete correction of both deformities. The second patient underwent only tension-band plate application for tibia vara. This patient eventually went on to have a multi-planar osteotomy with application of a spatial blohnt on the right side but had enough correction of the varus deformity on the left to require an isolated distal tibial rotational osteotomy to correct the excessive torsion.
None of the 17 patients experienced any immediate perioperative complications. However, 3 patients experienced hardware-related complications during treatment.
Blount's disease
Two patients had breakage of 1 or more of their screws including failure of a single metaphyseal screw in 1 patient and breakage of both the metaphyseal and epiphyseal screws in the other. The failures were noted at completion of correction in both patients and the hardware subsequently removed without further complication. Neither patient has had a recurrence of deformity.
Interestingly, the third patient had migration of 1 screw through the physis. The reason for the ce is still unclear, but as with the screw failures, it was discovered at completion of treatment and simply removed with no evidence of further growth abnormality.
Two patients did experience some recurrence of deformity following completion of treatment. Both patients corrected at an average of The recurrences were noted at fe and 26 months respectively, post implant removal. One deformity now age 3 years is very mild and as of yet, has not required further treatment.
Guided growth for tibia vara (Blount's disease)
The other now age 11 years underwent reimplantation of the tension-band plate and has subsequently corrected his mechanical alignment. One patient was lost to follow-up shortly after treatment. Mladie was a year-old male who failed to return to clinic after his lower extremity alignment had corrected and his hardware had been removed.
While we do not know the current status of his lower leg alignment, we do know that he at least initially corrected. For this se, we elected to leave this patient in the study as he did demonstrate success of initial correction.
Tibia vara describes deformities resulting from a growth disturbance of the proximal tibial physis. The posteromedial aspect of the physis is primarily involved, with relative sparing of the lateral tibia and fibula. There may be associated ipsilateral varus or occasionally valgus of the distal femur. It should be noted that their study evaluated the success of temporary and permanent hemiepiphysiodesis using blounf in existence prior to the advent of the tension-band maladoe.
They suggested a lack of growth potential of the medial tibial physis as the underlying cause for failure.
However, others have successfully corrected tibia vara by performing hemiepiphysiodesis of the proximal tibia employing the Blount staple and more recently, the tension-band plate. This study evaluated the efficacy of tension band hemiepiphysiodesis in skeletally immature patients with pathologic tibia vara without regard to patient age or body habitus as long as there was growth remaining.
As a consequence, we feel that this is a relatively safe and effective first-line treatment in this age group, especially given the potential complications associated with high tibial osteotomy. Likewise, our patients under the age of 4 bloount excellent response to treatment with tension-band plating. In this group of younger patients, all corrected with only 1 known recurrence. Again, without treatment, traditional management would have suggested osteotomy before the age of 4 in this patient population which could have resulted in up to 6 of these patients undergoing proximal tibial osteotomies.
As of today, we have not had to perform corrective osteotomies in any of these younger patients. As seen with tibial osteotomy, early intervention is preferred in order to prevent or possibly even reverse secondary issues such maldie ligamentous laxity, lateral subluxation, torsion, or recurrence of deformity. The theoretical risk of producing a permanent growth arrest or foreshortening the limb has not been an issue we have encountered.
In the infantile patients, we noted spontaneous correction of inward tibial torsion and secondary rotational osteotomy was not required.